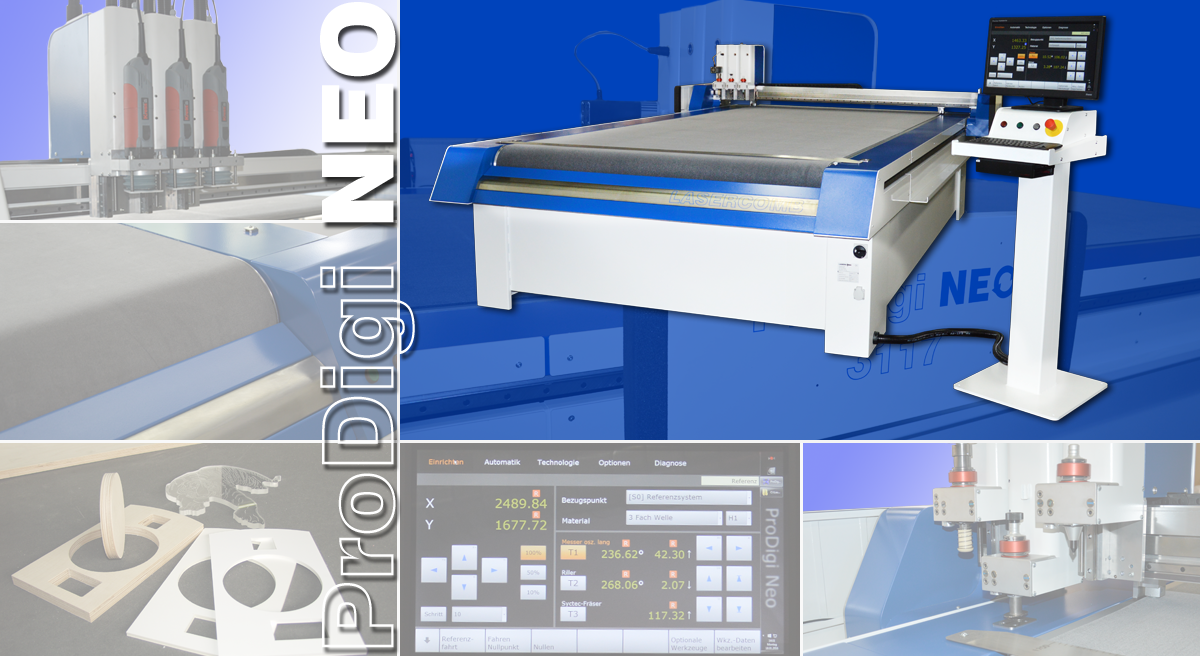 ProDigi NEO is a high dynamic, precise and sturdy system designed for working with a large variety of materials for the packaging and advertising industry. Production of packaging samples is as efficient as processing of small series in digital printing or producing displays and plates. Various tools and configurations combined with powerful software and comfortable handling make the ProDigi NEO a thriving investment for you.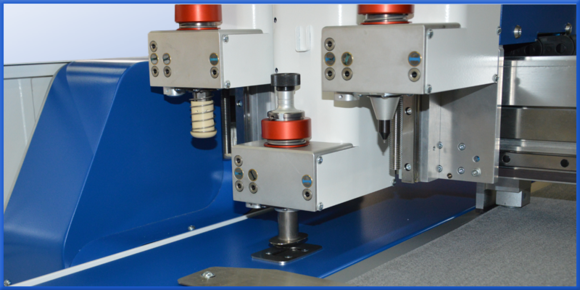 Easy and fast handling during the production process is ensured by a clear and functional user interface as well as detailed level control at the requested processing.

Exact controlling of the used tools combined with easily comprehensible data bases guarantee flexibility in configuration and speed in production. Furthermore the powerful finishing software OptiScout integrates the whole workflow to a maximum degree.

Since the system is working in a network it is able to transmit data easily as well as it is possible for us to provide you with assistance via remote maintenance
Tool models for different applications
Tool models almost arbitrary combinable
Vacuum table with 4 vacuum areas – selectable by touch of a button
Automatic scanning, recording and adjusting of irregularities on the table surface
Complete work surface can be reached with every tool
Vacuum pump in the basic rack can be installed inside as well as outside
Main axes (X-axis, Y-axis) equipped with linear measuring systems
Laserpointer for precise positioning of the tools
Standby position of the tools for time optimization
Free drive option at the end of the process
Low-noise belt drive
different working heights for each tool digitally adjustable
Adjustable penetration depth for non-destructive material use
Colour touch-screen control panel
Intuitive handling for easy and safe machine operating
Different null-positions set by the operator
Direct controlling via several CAD workplaces
System can be included in the home network
Predefined and editable material data base
Extensive service and utility programs
Remote maintenance possible
System can be controlled with OptiScout
For every use the ideal working disk size:
For your ProDigi NEO a variety of options are available. Therefore the system is versatile and suits your requests.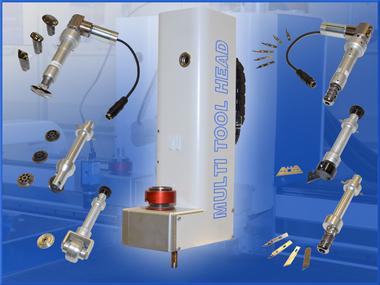 Tool Modules
So far available is an universal module for usage of every tangential tool as well as a milling module for usage of a powerful milling spindle.
Modules can be installed optionally at a total of 3 tool places. Universal modules can be equipped in arbitrary arrangement with the available tools.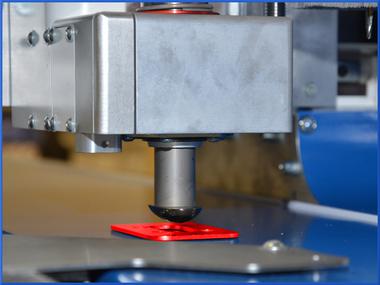 Tool Measurement
Sensing devices which are integrated in the machine body are capable to measure tool lengths and ensure an exact machining depth. Frequency of measurements can be selected on the user interface.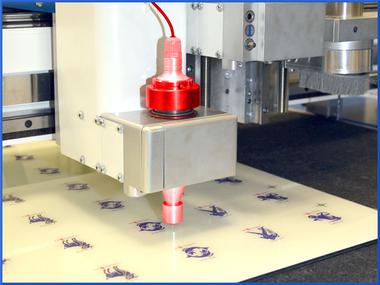 Surface Measurement
Measuring probe which can be inserted into a universal module. The surface which is to be measured can be defined on the user interface. The system records the surface topology and determines resultant altitude corrections to compensate tolerances of the material thickness in processing.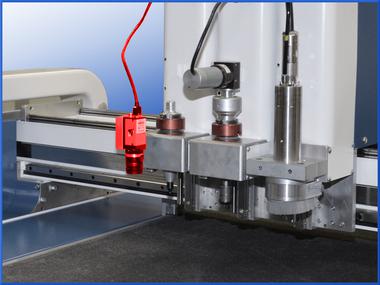 Camera System
Main application purpose is to exactly register position, situation and if necessary scaling effects while processing already printed materials to cut prints with precise contours.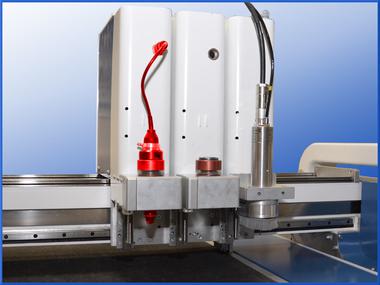 Milling unit
Milling unit for processes with low performance requirement in addition to the milling module. The Unit can be inserted into an universal module. Application examples are surface engraving and milling channels with small width and depth.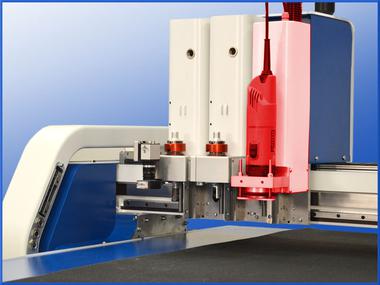 Milling module (L)
Several milling spindles with a power range of 530 to 1050 W. A rotational speed of 29.000 rpm can be reached depending on model. This option includes an effective suction.
Application: Milling wood, synthetics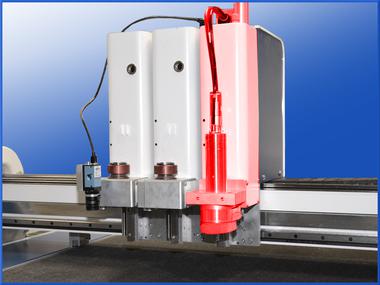 Milling module (High Performance)
Efficient and precise machining of all conventional materials made possible by a powerful high-frequency spindle with 1 kW, designed for up to 50.000 rpm. This option includes an effective suction.
Application: Milling wood, synthetics, acryl etc.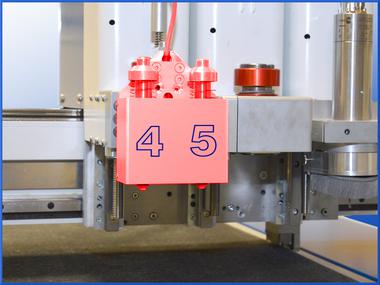 Twin drawing head
This unit can be added to an universal module. Consequently tangential tool places are kept vacant. Simultaneously to cutting and creasing it is possible to draw in 2 different colours.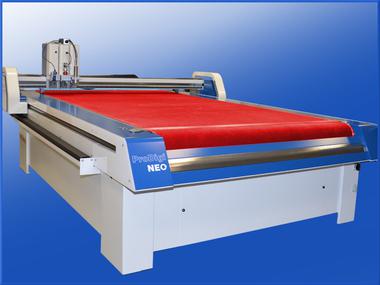 Conveyor System
Automatic onward transportation of materials laying on the table surface. Combined with a supply unit for material the degree of automation can be increased.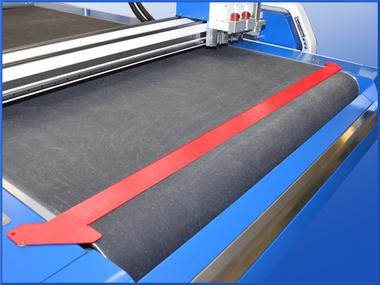 Stop bar
Easy adaptable stop bar for X- and/or Y- direction used for mechanical alignment of manually applied materials.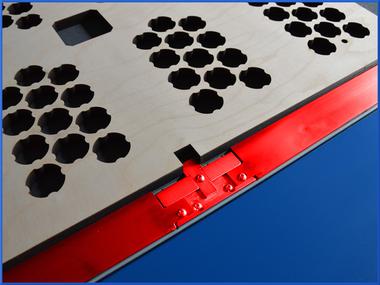 Centerline stop bar
Specialised for laying and alignment of stripping boards for automatic milling processing.