PTS Neo – a modern combination laser system for flat and rotary processing - edge of technology in all components. Lasercomb PTS systems are installed worldwide, commonly used in multiple-shift operation for many years. They are characterized by minimum maintenance effort and maximum availability and production reliability. We combined our proven concept with modern design and newest technology in this recent PTS generation. For adjustments to your special requests we offer a large variety of options.
Starting with the standard equipment for easy wood processing going to high speed engraving, steel cutting, milling processing and a laser power up to 3.000 W we have several options to configure the machine according to your needs.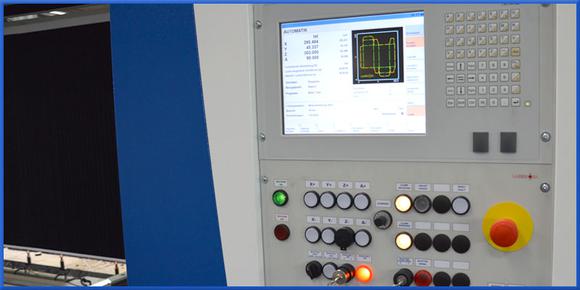 Operation occurs on a graphic user interface which is comfortable by means of a touch screen and has an intuitive operator guidance. Input of required parameters for material and incision is logically and clearly structured. Extensive hedging methods help to prevent unintentional mistakes. In daily operation, the next step is defined and the machine is ready to operate with a minimum of inputs. This is supported by extensive material and parameter data bases. Cut corrections can be applied at any time.
The machine is working on the network which allows easy data transmission and besides enables us to support you by remote maintenance.
Solid welded construction for machine base
Table system with ball screw and digital drives
Linear guidance
ROD measuring system
Lateral suction for flue gas
Laser cut in cw or pulse mode 
Editable material data base to record cut parameter depending on the material
LAN connection to transmit data files for machine control by server
Remote control/ error analysis for internet/ intranet
Re-entry into cutting programs after power failure
Small part separator for separating flue gas and small wooden pieces
Minimum gas consumption of laser source
Minimum maintenance effort at laser source and system
Laser source installed on machine base frame
Electrical cabinet integrated on machine frame
Exhaust fan installed behind machine base frame, wall mounting possible
Safety devices/ safety fence
Adsorption dryer with activated carbon filter for treatment of oil- and condensate-free compressed air for optimum protection of lenses
Laser equipped with Fast Sensor
Laser equipped with ramp generator
Standard equipment
Rofin Sinar Slab 3 laser source
Water cooler for cooling of laser source and external optics
Exhaust fan (3x)
Standard Lasercomb nozzle with 7,5'' lens for wood processing
Crash protect for cutting nozzle
Safety devices
Touch screen controller with graphics screen
Available Models:
PTS Neo basic version:
Working area flatbed:    3000 mm x 1500 mm
Working area rotary:     174 mm – 696 mm inside diameter, 3000 mm Length
Optional:
Working area flatbed:     3000 mm x 1500 mm
Working area rotary:     174 mm – 800 mm inside diameter, 3000 mm Length
Or:
Working area flatbed: up to 4000 mm x 2200 mm
No rotation
Your PTS Neo system can be adjusted according to your requests by means of various extensions. Therefore the following options are available.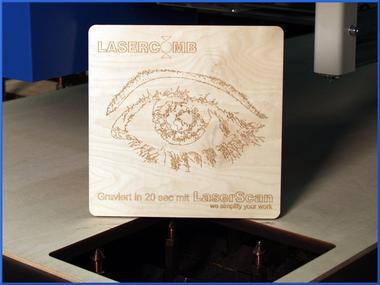 LaserScan
An ever-increasing amount of information is engraved on the cutting die. Especially markings are extremely time-consuming because of low movement speed according to very detailed contours. With this option, we offer the opportunity to drastically reduce processing time of engraving. Laser beam is moved with speeds of up to 12m/s (720m/min) by means of a galvanometer scanner. Thereby in each case is a quadratic partial surface for example 200 x 200mm labeled. After that the scanner unit is repositioned and the adjacent partial surface gets labeled. Division in partial surfaces is fully automated. Conventional engraving by laser nozzle can be used optionally. Also for rotary processing the LaserScan can be used with some restraints.
Application:  Fast laser engraving of labels, position marking, line numbers, logos, etc., special engravings on various materials.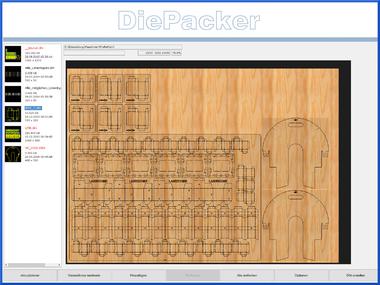 DiePacker software
Our software DiePacker which is integrated in the operator interface enables you to combine different cut files in one single file. Operator guidance is easy and efficient. The benefit of the software resides in the improvement of material utilization and longer runtime of the system without intervention by machine operator. Thereby you can achieve noticeable improvements of productivity especially when smaller dies are frequently cut.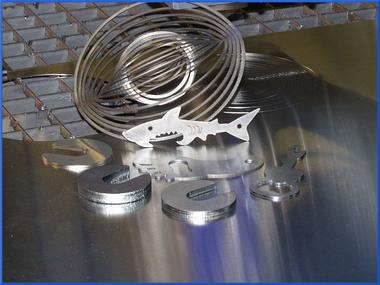 Metalworking
Cutting steel sheets on the laser system is a frequently requested application. In our opinion the PTS Neo is particularly suited by means of the Precitec nozzle which works with high pressure up to 25 bar and the cartridge system of the nozzle which makes easy replacement of lens and focal length possible. Furthermore, there are additional options available which facilitate machining steel sheets or rather metallic materials.
Steel option 1
The system will get equipped with additional cutting gas ports for oxygen and nitrogen. Our Lasercomb nozzle will be used and for metalworking a second lens holder with 5 1/4'' high pressure lens will be provided. Additional material tables will be displayed on the operator interface where specific metalworking parameters can be recorded. The cutting gas circuit is flushed automatically while rearranging.
Steel option 2
The system will get equipped with additional cutting gas ports for oxygen and nitrogen. A Precitec high pressure nozzle will be used with a cartridge system for easy replacement of lens with 5 ¼" high pressure lens. Additional material tables will be displayed on the operator interface where specific metalworking parameters can be recorded. The cutting gas circuit is flushed automatically while rearranging.
Capacitive height sensing
The focal position can be operated contactless thus damage of the surface by a gliding shoe can be avoided.
Application:
Cutting steel sheets: standard steel from < 1 mm up to > 10 mm thickness, stainless steel from < 1 mm up to approx. 6 mm, other metal products. (workable sheet thickness also depends on laser power)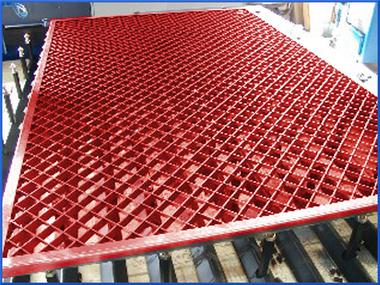 Support grate
A simple support grate is included in the scope of supply for steel option 1 and steel option 2. This grate can be applied into the system to facilitate and improve laying the sheets.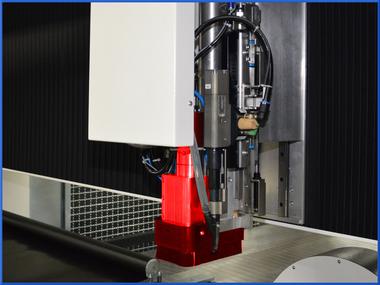 Controlled milling axis with automated tool replacement
Milling processes on the shell surface are part of the daily work for a long while now especially for rotary cutting dies. In various applications, for example the so called "Evol-Dies", a great number of different milling grooves is required. Accordingly, we offer an additional milling axis which is independent and a controlled Z-Axis and also equipped with a 3,4 kW spindle. Additionally, it can be complemented with an automated tool replacement. The milling process is supported by upstream height sensing. Consequently, a uniform cutting depth is secured even with different wood thicknesses. Less frequently, milling processes for flatbed processing are requested. Nevertheless, all options for milling processes are also available for it.
Application: all typical milling processes for Posilock, rubber coating, Evol-Dies, reductions, chamfering, etc.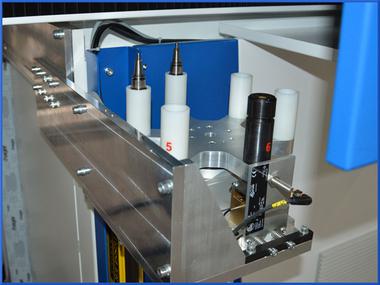 Automated tool replacement
The tool replacement system is equipped with 5 tool places and a measuring station to survey the tool length.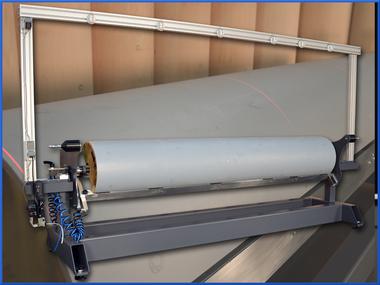 External setting-up of half shells
The additional external set-up station enables you to prepare the half shells completely for the clamping process while machine is running. Consequently, the time for replacement and setting-up is reduced to a minimum. The station can be equipped with laser pointers to mark screw positions on the surface. A supplementary screw unit, which is equipped with a screw depot to install the screws without pre-drilling or handling, can be provided.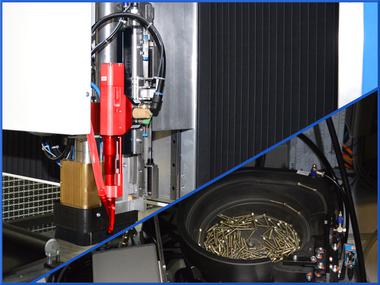 Automated setting-up of half shells in the machine
Automated screwing of half shells in the machine is an entirely new possibility. The half shell will be placed on the supporting discs, the machine recognizes position and length of the half shell and autonomously screws it together before the laser processing is initiated. An automated collision detection for the screw positions is integrated and a major advantage in this procedure. Screws in the areas to be milled are disruptive and cause damage to tools.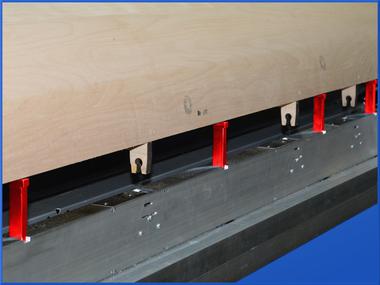 Pneumatic ejector
This option allows excavating of shells from turnbuckles.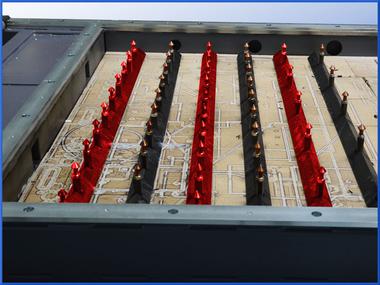 Additional support points
We offer this option for additional support points to improve and stabilize laying of smaller cutting dies and processing cutting die remnants.
Laser processing of wood in cutting die industry fladbed and rotary
Laser processing of steel sheets
Laser processing further materials like acrylic glass
Laser engraving on various materials