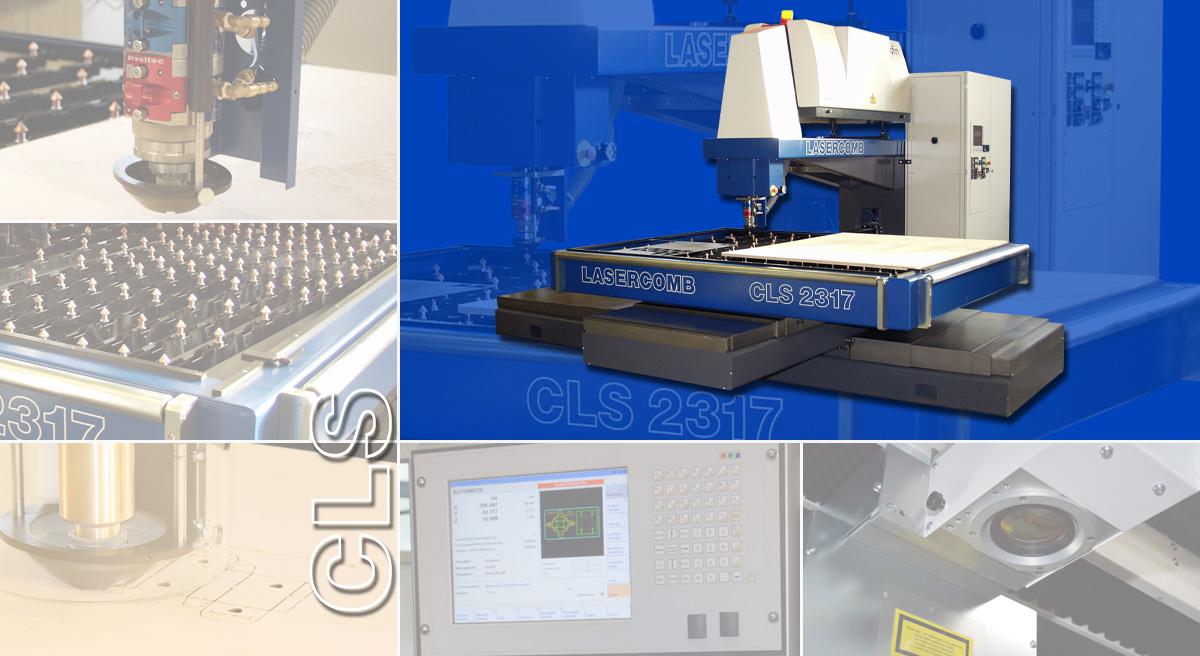 The basing concept of our CLS laser systems is a cross table. Substantial characteristics: maintenance-friendly design with only one deflection mirror, static lens which does not require beam length compensation, easily accessible working area.
Therefore a CLS is exceedingly suitable for you if your application requires a higher precision than usually expected in die making industry. In this case, you can reach highest accuracy through optimally installing a glass scale. Furthermore, for example if you cut steel sheets regularly you will benefit from the cross table in combination with lateral suction.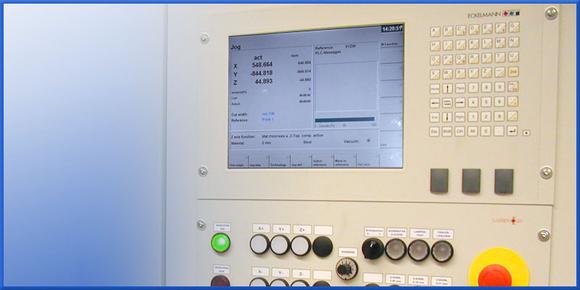 Operation occurs on a graphic user interface which is comfortable by means of a touch screen and has an intuitive operator guidance. Input of required parameters for material and incision is logically and clearly structured. Extensive hedging methods help to prevent unintentional mistakes. In daily operation, the next step is defined and the machine is ready to operate with a minimum of inputs. This is supported by extensive material and parameter data bases. Cut corrections can be applied at any time.
The machine is working on the network which allows easy data transmission and besides enables us to support you by remote maintenance.
Solid welded construction for machine base
Cross table system for X-/Y-Axis with ball screw and digital drives
Linear guidance for X-/Y-Axis
ROD measuring system
Central suction lance for flue gas
Laser cut in cw or pulse mode 
Editable material data base to record cut parameter depending on the material
LAN connection to transmit data files for machine control by server
Remote control/ error analysis for internet/ intranet
Re-entry into cutting programs after power failure
Small part separator for separating flue gas and small wooden pieces
Minimum gas consumption of laser source
Minimum maintenance effort at laser source and system
Laser source installed on machine base frame
Electrical cabinet integrated on machine frame
Exhaust fan installed behind machine base frame, wall mounting possible
Safety devices with light barriers
Adsorption dryer with activated carbon filter for treatment of oil- and condensate-free compressed air for optimum protection of lenses
Laser equipped with Fast Sensor
Laser equipped with ramp generator
Standard equipment
Rofin Sinar Slab 3 laser source
Water cooler for cooling of laser source and external optics
Exhaust fan
Standard Lasercomb nozzle with 7,5'' lens for wood processing
Small part separator
Crash protect for cutting nozzle
Safety devices
Touch screen controller with graphics screen
Loading rool at the front of the table
Flexible covers in X-/Y-Axis
Available Models:
- CLS 2115  2100 x 1500 mm ( 83" x 59")
- CLS 2317  2300 x 1700 mm ( 90" x 67")
- CLS 2515  2500 x 1500 mm ( 98" x 59")
Your CLS system can be adjusted according to your requests by means of various extensions. Therefore the following options are available.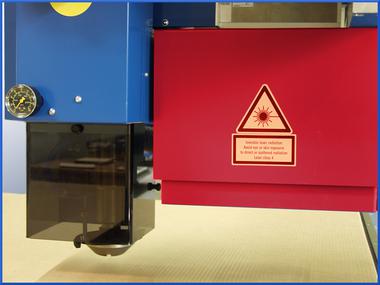 LaserScan
An ever-increasing amount of information is engraved on the cutting die. Especially markings are extremely time-consuming because of low movement speed according to very detailed contours. With this option, we offer the opportunity to drastically reduce processing time of engraving. Laser beam is moved with speeds of up to 12m/s (720m/min) by means of a galvanometer scanner. Thereby in each case is a quadratic partial surface for example 200 x 200mm labeled. After that the scanner unit is repositioned and the adjacent partial surface gets labeled. Division in partial surfaces is fully automated. Conventional engraving by laser nozzle can be used optionally.
Application:
Fast laser engraving of labels, position marking, line numbers, logos, etc., special engravings on various materials.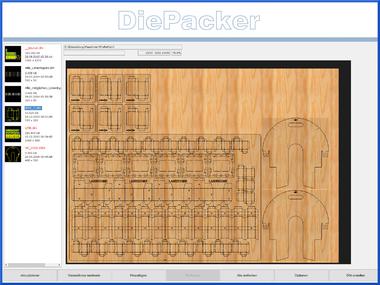 DiePacker software
Our software DiePacker which is integrated in the operator interface enables you to combine different cut files in one single file. Operator guidance is easy and efficient. The benefit of the software resides in the improvement of material utilization and longer runtime of the system without intervention by machine operator. Thereby you can achieve noticeable improvements of productivity especially when smaller dies are frequently cut.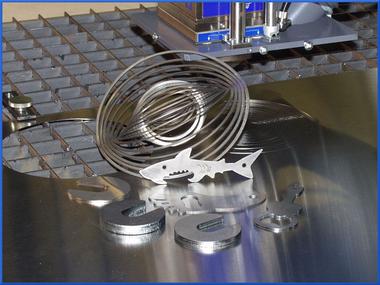 Metalworking
Cutting steel sheets on the laser system is a frequently requested application. In our opinion the CLS is particularly suited by means of the Precitec nozzle which works with high pressure up to 25 bar and the cartridge system of the nozzle which makes easy replacement of lens and focal length possible. Furthermore, there are additional options available which facilitate machining steel sheets or rather metallic materials.
Steel option 1
The system will get equipped with additional cutting gas ports for oxygen and nitrogen. Our Lasercomb nozzle will be used and for metalworking a second lens holder with 5 1/4'' high pressure lens will be provided. Additional material tables will be displayed on the operator interface where specific metalworking parameters can be recorded. The cutting gas circuit is flushed automatically while rearranging.
Steel option 2
The system will get equipped with additional cutting gas ports for oxygen and nitrogen. A Precitec high pressure nozzle will be used with a cartridge system for easy replacement of lens. Additional material tables will be displayed on the operator interface where specific metalworking parameters can be recorded. The cutting gas circuit is flushed automatically while rearranging.
Capacitive height sensing
The focal position can be operated contactless thus damage of the surface by a gliding shoe can be avoided.
Application:
Cutting steel sheets: standard steel from < 1 mm up to > 10 mm thickness, stainless steel from < 1 mm up to approx. 6 mm, other metal products. (workable sheet thickness also depends on laser power)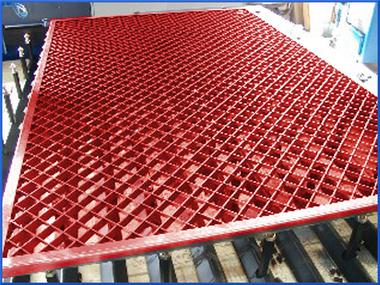 Support grate
A simple support grate is included in the scope of supply for steel option 1 and steel option 2. This grate can be applied into the system to facilitate and improve laying the sheets.
Lateral suction
Flue gas emerging will be vacuumed laterally so that small cut out parts cannot fall into the beam absorber of the suction lance which gives two advantages – they cannot cause damage and if they are product pieces will not be destroyed. In this option the bottom panel will be completely covered with firebricks. Dropped down pieces can be easily collected.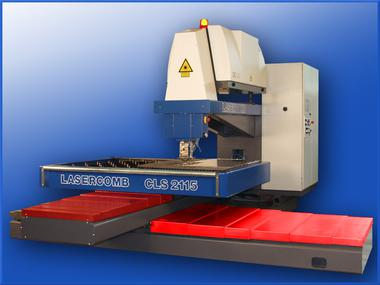 Telescopic cover
The covering of movable machine axis can be made with metallic telescopic cover.  These covers show a better durability than the standardly built-in bellows. While cutting steel, flying sparks can not always be prevented therefore the metallic covers offer ideal protection for leads and movable components. 
Additional support points
Valuable to improve and stabilize laying of smaller cutting dies and processing cutting die remnants.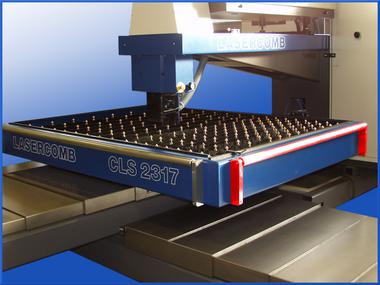 Additional load roll
With our standard package comes one roll at the front of the desk as load assistance. On request, additional load rolls can be installed at the sides of the desk.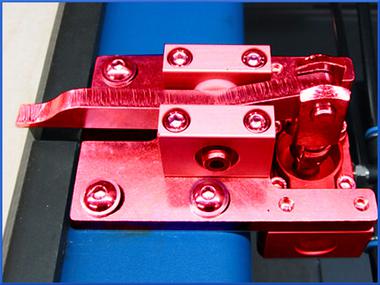 Pneumatic clamping system
Pneumatically moved clamping fingers are fixing the material on the work desk. This option offers a more easy and accelerated setting-up which improves efficiency.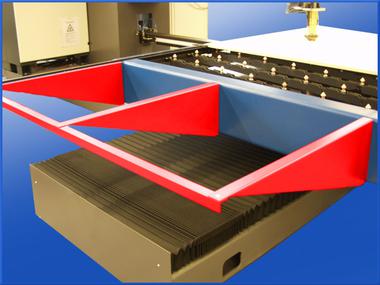 Desk extension
Larger boards can be neatly laid on the desk and processed in the given cutting area. The working area remains unchanged.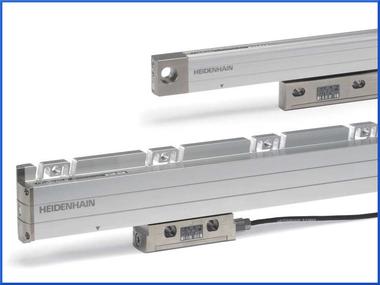 Linear glass scale
Both axis of the cross table will be equipped with glass scales. Glass has a remarkable low thermal expansion so that temperature fluctuations will not have any effect on the measure system of the machine.
Laser processing of wood in cutting die industry
Laser processing of steel sheets
Laser processing further materials like acrylic glass
Laser engraving on various materials